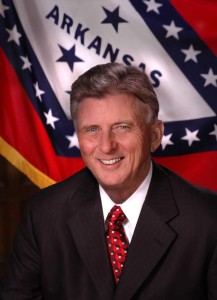 The press has ignored what has come out in the in the Lakewood Washington accessory to murder trials and investigation near Seattle where four police officers were gunned down.  Apparently, at one time, murderer Maurice Clemmons was being held in jail without bond after being arrested for rape charges in Washington. But a former Arkansas judge-turned-attorney (Stephen Morley), after leaving the bench under scandal, talked someone in the office of Democratic Governor Beebe to rescind the Arkansas no-bond order allowing Clemmons to post bail. He was arrested several more times and continued to post bail, until after the last arrest he got so angry he went out and killed four cops.  There may have been another warrant out for Clemmons as well, that was ignored by the Washington justice system.
A blogger broke the story last month of Gov. Beebe's office involvement   in a story entitled: The Maurice Clemmons Case: We Blamed the Wrong Arkansas Governor, but the press has totally ignored the story: Zero Google News Hits!
Last year, Shane posted Mike Huckabee's written response and gave his side of the story.  There were tons of details that the press left out at that time as well.

God has blessed David and his wife Judy with 5 boys, and 18 wonderful grandchildren.  His book entitled "With Christ in the Voting Booth: Casting Down Imaginations"
Before
Casting Your Vote", with a Foreword by Mike Huckabee, was published by Calvary Press in September.
David is currently an adjunct instructor of Composition and Speech at
Marshalltown Community College
in Iowa.  His wife and he have also owned a business selling antique and collectible postcards on eBay since 1999.  David was an activist with Operation Rescue in the early 1990s. He is a member of Trinity Presbyterian Reformed Church in Johnston, Iowa. 

Latest posts by David Shedlock (see all)