Yes, Google says on its home page: Follow Santa as he travels around the world on Google Maps.
I think they meant to say "Follow Santa on Google Maps as he travels around the world."
Am I the only one in the WORLD to notice this?   Santa takes a magic carpet ride across the globe?
Here's Santa Claus, riding on his transportation, according to the world's largest search-engine company: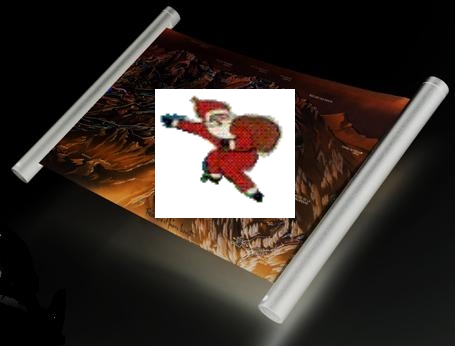 See what a misplaced prepositional phrase will do for the world's largest website?  It is 5 pm CST, December 24th.   Santa will be leaving soon to deliver Christmas presents.   Will Google change it today, or leave the bad grammar for all the world to see?   The lesson: Technology can't help human frailty.  There is no Utopia or Eutopia.

God has blessed David and his wife Judy with 5 boys, and 18 wonderful grandchildren.  His book entitled "With Christ in the Voting Booth: Casting Down Imaginations"
Before
Casting Your Vote", with a Foreword by Mike Huckabee, was published by Calvary Press in September.
David is currently an adjunct instructor of Composition and Speech at
Marshalltown Community College
in Iowa.  His wife and he have also owned a business selling antique and collectible postcards on eBay since 1999.  David was an activist with Operation Rescue in the early 1990s. He is a member of Trinity Presbyterian Reformed Church in Johnston, Iowa. 

Latest posts by David Shedlock (see all)