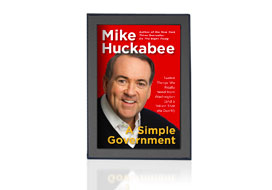 Winter 2011 Book Tour Schedule
A SIMPLE GOVERNMENT: TWELVE THINGS WE
REALLY NEED FROM WASHINGTON (AND A TRILLION
THAT WE DON'T!)
by Governor Mike Huckabee
To be published by Sentinel,
(An imprint of Penguin Group, USA) on February 22nd:
Governor Huckabee's Book Signing Tour includes stops in Des Moines, Dubuque, Iowa City, Davenport, Waterloo, and Cedar Rapids, Iowa; as well as Anderson, Columbia, Florence, Greenville, and Spartanburg, South Carolina. These two states would be critical states for Huckabee if he wants to win the presidency in the 2012 elections. He has not announced his intentions, and said he will probably not do so until this summer.
Other cities on the tour include: Destin, Florida; Rome and Alpharetta, Georgia; Topeka and Wichita, Kansas; Alexandria, Baton Rouge, and Shreveport, Louisiana; Biloxi, Mississippi; Asheville, Fayetteville, Greensboro, and Wilson, North Caroloina; Tulsa and Oklahoma City; Cleveland, Knoxville, Johnson City, and Kingsport, Tennessee; and in Texas: Cedar Hill, Greenville, Longview, Sherman, Tyler, and Wichita Falls.
If the book tour is intended to effect the potential presidential race, it is obvious Governor Huckabee has a Southern strategy. Iowa may be in there to prepare for a caucus bid, the first state in the Republican race.
The complete schedule is below, also available in PDF format for printing or downloading (at the link).

God has blessed David and his wife Judy with 5 boys, and 18 wonderful grandchildren.  His book entitled "With Christ in the Voting Booth: Casting Down Imaginations"
Before
Casting Your Vote", with a Foreword by Mike Huckabee, was published by Calvary Press in September.
David is currently an adjunct instructor of Composition and Speech at
Marshalltown Community College
in Iowa.  His wife and he have also owned a business selling antique and collectible postcards on eBay since 1999.  David was an activist with Operation Rescue in the early 1990s. He is a member of Trinity Presbyterian Reformed Church in Johnston, Iowa. 

Latest posts by David Shedlock (see all)