We are all subject to making mistakes, as I am sure Mike Huckabee will be first to tell you. As I pointed out recently, many pundits and pols have taken to prognosticating, pontificating and predicting the demise of the Mike Huckabee for President 2012 candidacy. He is not running, he will not run, he cannot run, he should not run, he must not run. Even, "Don't run, Mike". No one yet has said he didn't run. Previously I debunked the myths that his home or Fox contract will keep him out.
Now let's bring the story up to date. First, there is the issue of Eric Woolson, who met with Huckabee during his Simple Government book tour last week. He has now announced he is going to work to promote Tim Pawlenty if he decides to run. Woolson is one of many professional political insiders who have worked for various campaigns, including Huckabee's 2007 effort in Iowa.
Huckabee has made two things clear. First, he cannot take concrete steps to begin a run for presidency until he is certain he is going to run, otherwise, he will lose his contracts with ABC Radio and Fox News. Rick Santorum and Newt Gingrich have already been "booted off" Fox for bellying up too close to the presidential bar. Second, it is clear Huckabee has not decided whether he will run or not, or has kept the decision to himself. He could not even wisely tell close associates like Woolson and Bob Vander Plaats that "yes, I am running". One leak or misstep and he would be dumped in the pool, still wearing a suit and tie. So no one, especially Huckabee, blames Woolson for taking the bird in hand instead of waiting for the two in the bush, if that is his reasoning.
Politico shows how presumption can cause you to mess up the story. In the latest rendition of the "hardened conventional wisdom" that Huckabee won't run, they lead their story with a picture of four female Huckabee supporters wearing M-I-K-E on their T-shirts at a rally in 2007. The AP picture has this caption:
"Iowa conservatives rally for Mike Huckabee in 2007. They don't have a standard-bearer today"
The problem for Politico is, these same four young ladies showed up last week at the book tour in Iowa, just as enthusiastic as ever: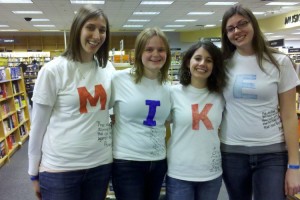 I know the anti-Hucks are out in full force wishin' and a prayin', and a hopin' he won't run.   But a picture paints a thousand words.
HatTip: Granny T at Huck's Army.

God has blessed David and his wife Judy with 5 boys, and 18 wonderful grandchildren.  His book entitled "With Christ in the Voting Booth: Casting Down Imaginations"
Before
Casting Your Vote", with a Foreword by Mike Huckabee, was published by Calvary Press in September.
David is currently an adjunct instructor of Composition and Speech at
Marshalltown Community College
in Iowa.  His wife and he have also owned a business selling antique and collectible postcards on eBay since 1999.  David was an activist with Operation Rescue in the early 1990s. He is a member of Trinity Presbyterian Reformed Church in Johnston, Iowa. 

Latest posts by David Shedlock (see all)