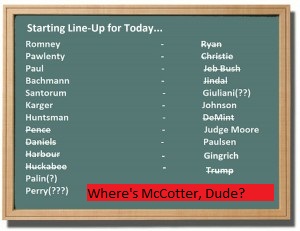 Prezographer and Tea Republican reporter for the Iowa Republican, famous Dave Davidson taped an exclusive interview with U.S. Representative Thaddeus McCotter in a Hy-Vee kitchen. (Hyvee has not yet endorsed McCotter, but this is no different than having your picture taken of a candidate at the Pizza Ranch, which everybody and their brother's candidate has done.)   McCotter, who is running for President on the GOP side, gave a lighthearted and punny explanation why it is a mistake for the Iowa Republican party to keep him off the debate stage shortly before the Ames Iowa Straw Poll.  The Ames Straw Poll will be held Saturday, August 13th.  
Among the puns:  The debate was one of the "Fruits of the purchase" of the best tent site at the poll he expected,  disappointed voters would be left with a "saccharin taste in their mouths" because he has been banned (so far),  instead of the voters getting a   "sweet time" contemplating a full  "range of options".

God has blessed David and his wife Judy with 5 boys, and 18 wonderful grandchildren.  His book entitled "With Christ in the Voting Booth: Casting Down Imaginations"
Before
Casting Your Vote", with a Foreword by Mike Huckabee, was published by Calvary Press in September.
David is currently an adjunct instructor of Composition and Speech at
Marshalltown Community College
in Iowa.  His wife and he have also owned a business selling antique and collectible postcards on eBay since 1999.  David was an activist with Operation Rescue in the early 1990s. He is a member of Trinity Presbyterian Reformed Church in Johnston, Iowa. 

Latest posts by David Shedlock (see all)