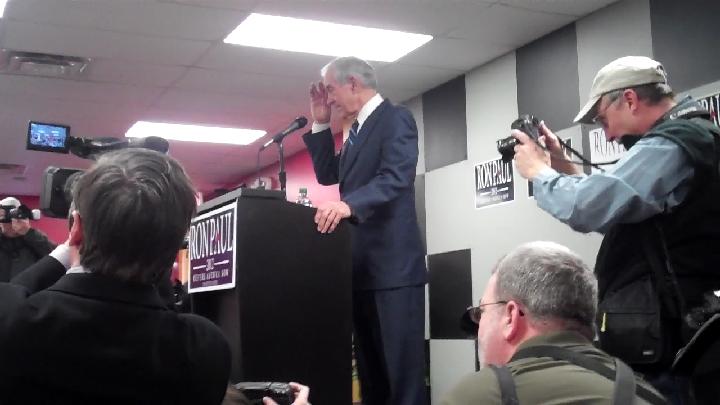 Iowa Caucus frontrunner Ron Paul was in Newton, Iowa at noon yesterday for a townhall meeting at the Iowa Speedway. A crowd of about 150-200 came to hear him speak, along with about 50 members of the press.
He made little news with the speech, which included most of his standard boilerplate remarks : bring the troops home, the unsustainability of the national debt, and maintaining our liberties against the encroachment of government. He only mentioned abortion in brief passing, focusing on economic issues instead.
He did allow a few questions, but controlled who could ask the questions by having his campaign staffer, David Fischer take the microphone to them. No questions were asked that challenged him on any issue.
During the question and answer time, one Newton resident and Vietnam veteran, Bob Colby vehemently stated, "of all the candidates…you're the only one I would trust to be my commander-chief." Paul responded with a salute.

God has blessed David and his wife Judy with 5 boys, and 18 wonderful grandchildren.  His book entitled "With Christ in the Voting Booth: Casting Down Imaginations"
Before
Casting Your Vote", with a Foreword by Mike Huckabee, was published by Calvary Press in September.
David is currently an adjunct instructor of Composition and Speech at
Marshalltown Community College
in Iowa.  His wife and he have also owned a business selling antique and collectible postcards on eBay since 1999.  David was an activist with Operation Rescue in the early 1990s. He is a member of Trinity Presbyterian Reformed Church in Johnston, Iowa. 

Latest posts by David Shedlock (see all)