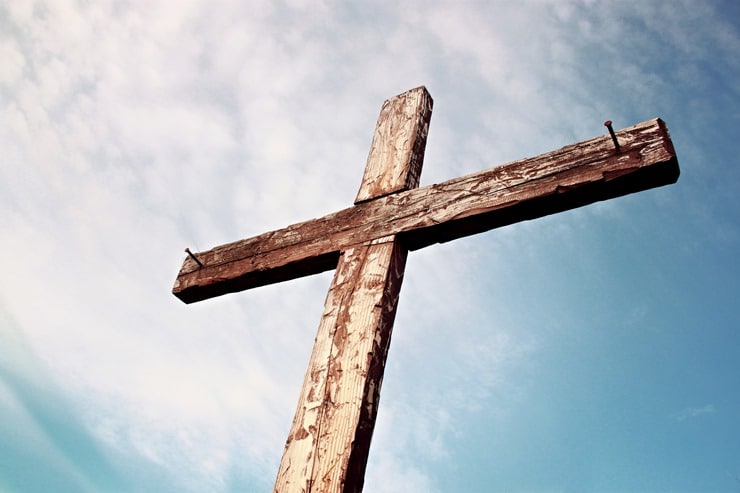 With it being Good Friday today I thought I'd share the seven last "words" (sayings) of Jesus on the Cross.  This is from a series I first posted back in 2009.
The first of the seven last "words" of Christ.
Father, forgive them, for they know not what they do, (Luke 23:34, ESV).
Even while on the cross in terrible agony Jesus prayed not only for those who were present, but for us as well.  Some may blame the Romans or the leading Jewish authorities for Jesus' crucifixion, but our sin placed Him on the cross.
Mark Driscoll writes in Death By Love: Letters from the Cross:
Jesus' first word is a word of forgiveness for the very people who were murdering him.  He knew that in a moment he would die to atone for their sins, including the sins they were presently committing against him.  In this we see the utter selflessness of Jesus and his unbroken devotion to saving even the worst of the sinners through the cross.
Thank you Jesus for the great love you showed us on the Cross.
The second of the seven last "words" of Christ while He hung on the Cross.
"Truly, I say to you, today you will be with me in Paradise," (Luke 23:43, ESV).
To the thief that exercised faith and asked Jesus to remember him when he came into his kingdom.  What faith that man had when many rejected Jesus, yet here when Jesus was on the cross dying this man recognized that Jesus was the Son of God.
Jesus spoke of salvation.  Jesus was on the cross about to die to atone for that thief's sins.  He would enter paradise with Jesus.  He would experience life that is eternal.  A free gift as all who trust in Jesus for salvation will receive.
Earlier in his ministry when confronted by a grieving Martha, Jesus spoke these words.
"I am the resurrection and the life.  Whoever believes in me, though he die, yet shall he live, and everyone who lives and believes in me shall never die," (John 11:25-26, ESV).
Jesus asked Martha and the question is relevant to us today – "Do you believe this?"
The third of the seven last "words" of Christ.
When Jesus saw his mother and the disciple whom he loved standing nearby, he said to his mother, "Woman, behold, your son!" Then he said to the disciple, "Behold, your mother!" And from that hour the disciple took her to his own home, (John 19:26-27, ESV).
Jesus was thinking of the welfare of those he loved even while on the cross.  Even though He was suffering, he looked down at His mother who would be undoubtedly distressed.  He appointed the "disciple whom he loved," John as the one to look after His mother.  How utterly selfless.  His first three "words" were addressed to those who were killing him, to the thief that placed his faith in Him, and now His mother.  All that without speaking of His needs.
The fourth of Jesus' seven last words on the cross:
After this, Jesus, knowing that all was now finished, said (to fulfill the Scripture), "I thirst," (John 19:28, ESV).
Here we see Jesus' humanity.  He suffered and experienced all of the pain and hardship that anyone of us would have suffered if we were in His place.  He didn't take any shortcuts.  His pain wasn't eased.  God who created the water was denied the water he desired to quench his thirst.
The fifth of seven of Jesus' last words while on the Cross.
And about the ninth hour Jesus cried out with a loud voice, saying, "Eli, Eli, lema sabachthani?" that is, "My God, my God, why have you forsaken me?" (Matthew 27:46, ESV).
Jesus quotes Psalm 22:1, at this moment the communion that Jesus shared with God the Father throughout eternity was broken.  God the Father metaphorically turns His back on his Son.  Why?  Because God is holy.  Scripture says that when Jesus was on the cross for our sake, "he made him who knew no sin, so that in him we might become the righteousness of God," (2 Corinthians 5:21, ESV).
At that moment our sin was placed upon Jesus who was without sin.  Isaiah prophesied this moment when he wrote, "All like sheep have gone astray; we have turned everyone to his own way; and the LORD has laid on him the iniquity of us all," (Isaiah 53:6, ESV).
Mark Driscoll, again, in Death by Love: Letters from the Cross wrote:
The great Protestant Reformer Martin Luther rightly declares that at the moment Jesus became the most grotesque, ugly, and hideous thing in the history of all creation.  In what Luther calls "the great exchange," the sinless Jesus so thoroughly took our place that he became the worst of what we are – rapists, thieves, perverts, addicts, liars, gluttons, gossips, murderers, adulterers, fornicators, homosexuals, and idolaters.  Importantly, Jesus' work on the cross was not just a bookkeeping transaction in the divine economy.  Jesus actually took to himself our sin with all its horror and shame, (Hebrews 12:2-3).
The sixth of the seven last words of Christ.
When Jesus had received the sour wine, he said, "It is finished," and he bowed his head and gave up his spirit, (John 19:30, ESV).
Atonement had been made at that moment in human history.  In the crucifixion of Jesus Christ, the justice, holiness, righteousness and wrath of God was satisfied.
Done.  His work complete.  No further atonement was needed.  Salvation was fully secured at that moment – finished.  Which is why the author of Hebrews could say "after making purification for sins, he sat down at the right hand of the Majesty on high," (Hebrews 1:3, ESV).
His work is finished.  Thank you Jesus!
The final statement made by Jesus while on the cross.
Then Jesus, calling out with a loud voice, said, "Father, into your hands I commit my spirit!" And having said this he breathed his last, (Luke 23:46, ESV).
His final breath, a triumphant shout declaring to the world that He had been restored to His Father after atoning for human sin.
He was pierced in the side to confirm death.  He was sealed in an airless tomb.  Dead.
Sunday's coming.