There's a meme making it's rounds through the liberal community that quotes Ronald Reagan making it look like he supports gun control.
The meme begins "There's no reason why on the street today a citizen should be carrying loaded weapons. Assault rifles* are not sporting rifles or needed for the defense of the home."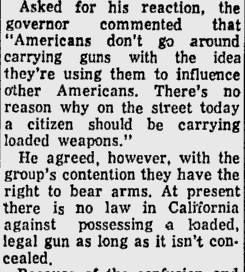 This is from the
Gettysburg Times in 1967
and the context was a
protest inside the Capitol by Black Panthers.
Two sentences in the article are always left out by gun control advocates.
First, ""Americans don't go around carrying guns with the idea they are using them to influence other Americans."
In other words, the macho image of men carrying a gun into a restaurant in order to get a good seat is the wrong one. He is saying that that is not the reason Americans own a gun. In my opinion, it's acceptable to take "open carry" weapons to a protest that is against gun control. It would not be a good idea to bring such weapons at an anti-abortion rally or to a political rally for or against a particular politician.  I agree with Reagan, guns should not be used to intimidate.
Finally, this sentence is often left out:
"He agreed, however, with the group's contention they have the right to bear arms"
No, President Ronald Reagan believed in the 2nd Amendment and was a life-long member of the NRA.
* An assault rifle is a fully automatic rifle which has largely been banned for decades. Fully automatic means the shooter has to only "pull the trigger" once and the flow of ammunition begins.

God has blessed David and his wife Judy with 5 boys, and 18 wonderful grandchildren.  His book entitled "With Christ in the Voting Booth: Casting Down Imaginations"
Before
Casting Your Vote", with a Foreword by Mike Huckabee, was published by Calvary Press in September.
David is currently an adjunct instructor of Composition and Speech at
Marshalltown Community College
in Iowa.  His wife and he have also owned a business selling antique and collectible postcards on eBay since 1999.  David was an activist with Operation Rescue in the early 1990s. He is a member of Trinity Presbyterian Reformed Church in Johnston, Iowa. 

Latest posts by David Shedlock (see all)