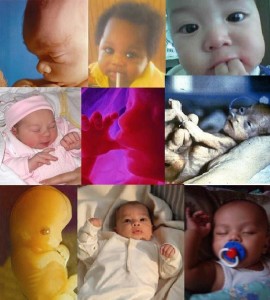 Your neighbor may be among the potential killers, many of them young, educated, and ambitious.  Not satisfied with the blood of their own children on their hands, they want to encourage you to kill yours, too.  A few of them are drug addicts, but would rather snuff out babies, than stop sniffing Cocaine.   300+ have signed the pledge below.
No doubt about it, hatred fills their hearts. A few men have joined them.  They especially hate children with handicaps. While at times they claim to have valid reasons (my children will die someday anyway!), they admit that the slightest motive may cause them to drown, burn or cut their babies into little pieces.   They ultimately hope the whole culture will join them in their murderous plots, and plan on pleading not guilty if they are ever called to account.  They will feel triumphant and noble if they wait and kill their babies at a later date, yet still argue for the right to do so at their own convenience. If they do decide to let their offspring live, they promise to send money to help others kill their children and/or hire hit-men to do the job.
What's a Christian to do?
First of all, pray for the children of these women.  Pray for the fathers as well, that they would do their duty and protect their own children.
Second, check the list for names you recognize.  Pray that these people will repent of their planned murders and turn to Jesus and be saved.
Third, show a little outrage and tell somebody about the pledge.
At the link above you will find the pledge:
To:  The Susan B. Anthony List

I pledge the following to the members of the Susan B. Anthony List:

1. If I get pregnant before the age of 21, I will have an abortion.

2. If I know anyone who gets pregnant before the age of 21, I will strongly suggest that they have an abortion.

3. If I get pregnant while still pursuing my education and cannot feasibly financially support a child, I will have an abortion.

4. If I get pregnant and am a current heavy drug user, I will have an abortion.

5. If I get pregnant and discover that my unborn child has a defect that will cause him or her a short life of unbearable pain, I will have an abortion.

6. If I am in a situation where not terminating my pregnancy is likely to kill me, I will have an abortion.

7. If I am in any other situation where I feel like an abortion is the best course of action, I will have an abortion.

8. If I am in any of the aforementioned situations and opt not to have an abortion, I will remember that my choice would have been meaningless without the right to choose and will continue to defend that right.

9. If I have the ability, I will donate to Planned Parenthood and/or other organizations that defend a woman's right to choose.

God has blessed David and his wife Judy with 5 boys, and 18 wonderful grandchildren.  His book entitled "With Christ in the Voting Booth: Casting Down Imaginations"
Before
Casting Your Vote", with a Foreword by Mike Huckabee, was published by Calvary Press in September.
David is currently an adjunct instructor of Composition and Speech at
Marshalltown Community College
in Iowa.  His wife and he have also owned a business selling antique and collectible postcards on eBay since 1999.  David was an activist with Operation Rescue in the early 1990s. He is a member of Trinity Presbyterian Reformed Church in Johnston, Iowa. 

Latest posts by David Shedlock (see all)